There are a lot of helpful tips for organizing a WordCamp that can be found at the official WordCamp how-to site, but what's got people buzzing is the announcement of stricter guidelines about who can and can't be associated with an event, from individuals to companies in various roles as organizers, speakers, and sponsors. This all depends on whether they comply with WordPress philosophies.
Lately there have been a number of WordCamps accepting speakers, sponsorships, door prizes, etc from people/companies acting in violation of the WordPress license (GPL v2) with regard to their themes/plugins. It is the official policy of WordCamp that WordCamps not provide publicity/a platform for such individuals/businesses. They are welcome to attend, but WordCamps may not have non-GPL-compliant people as organizers, sponsors, or speakers.
It's only fair that WordPress stand its ground on matters relating to the GPL, WordCamps included. For participants who aren't as familiar with the software, its community, and philosophy, WordCamp is the perfect venue to discuss those things.
I'm curious to see if any part of this controversy will affect the upcoming WordCamp Philippines 2010.
The complete list of guidelines can be found at WordCamp Central.
This week the WordCamp Philippines organizers have announced the venue for the conference to be held on October 2: it's back to College of St. Benilde in Taft Ave., Manila in partnership with the Association of Information Management. It's also been announced that Matt Mullenweg will be gracing the event, so better RSVP on the event page now.
You're also invited to complete a short survey which covers your expectations for the event. Also note that the entrance fee will cover lunch, schwag, and a WordCamp Philippine shirt.
There's a new date to mark on your calendars for the third WordCamp Philippines: October 2. Last December the organizers set August 28 as the date to save, but it got changed to work with Matt Mullenweg's schedule.
The date for the third iteration of one of the most anticipated blogging events in the Philippine blogosphere is set. Mark your calendar, folks. WordCamp Philippines is on October 2, 2010 and we're announcing it this early — that's how excited we are!

WordPress developer and Automattic founder Matt Mullenweg will be back to attend the event.

The event is still in the planning stages and the organizing team welcomes your suggestions. Together, we can make this year's version a community effort. So get those creative juices flowing and tell us your ideas in the comments section.

And the more the merrier, right? Help us spread the word about WordCamp Philippines 2010. Tell your friends, blog about it, plurk it, tweet it, post on walls, or make smoke signals.

Let's get the ball rolling!
Other than that, no new details yet, but stay updated with these links:
Firefox Personas, which let you skin your whole browser according to your own tastes, now has WordPress ones made by Automattic itself. As of writing there are two personas: WordPress Inkwell and WordPress Vintage Press.
WordPress and Firefox are both open source projects with great communities, so it's not surprising to see their worlds colliding every now and then. In fact if you'll Google just a bit, Firefox add-ons for WordPress will turn up—and vice versa.
In the Philippines, the 2009 WordCamp also saw Mozilla and Automattic present both at the event and after, with Beau Lebens and Seth Bindernagel eating balut!
Grab the WordPress Persona for Firefox now.
WordCamp Philippines organizer Ria Jose announced over the weekend that a date has been set: August 28. And even more exciting is that Matt Mullenweg will be returning to next year's event.
There are no further details other than that, but those are the two most important ones right now, don't you think? Kudos to Avatar Media and the rest of the WordCamp PH crew for starting the buzz this early.
Markku Seguerra just blogged about his talk in this year's WordCamp Philippines called "WordPress in the Wild":
WordPress used to simply be a blogging app and not much more. It's growth in the past few years though has pushed it to adapt a more extensible structure to allow for other uses beyond blogging as well as various other customizations. These changes made it more appealing to a wider range of users, but at the same time it also introduced some performance bottlenecks that become apparent when your blog rises to be just a bit too popular. Ah, the price of success.
His slides on WordPress deployment, performance, optimization, and security are embedded in the post, but scroll down for all the important links and points covered by his presentation. A bit on the technical side, but definitely a must-read for everyone running a WordPress website.
WordCamp Philippines 2009 was a great follow-up to the one held last year. A lot of the campters live tweeted and plurked the event, while the videographers provided a livestream.
WordCamp had a good balance of topics for both designers/developers and bloggers. Here are the slides for two of the most awaited talks that day from Automattic and Mozilla representatives:
Note: even though Matt Mullenweg couldn't make it, he made a special video just for the participants.
(Download the presentation here)
Hope the other speakers can upload their slides as well. Congratulations to the Mindanao Bloggers for another successful WordCamp Philippines!
It's one week to go before WordCamp Philippines 2009 the program is finally out:
8:00 AM – Registration

9:00 AM – Welcome Remarks
Backgrounder: Mindanao Bloggers Community by Blogie Robillo

9:30 AM – Meet the WordPress Family by Beau Lebens

10:30 AM – WordPress in the Wild by Markku Seguerra

11:15 AM – Citizen Journalism in the Context of the 2010 Elections by Danilo Arao

11:45 AM – A quick look into the Mozilla community through the lens of localization by Seth Bindernagel

12:25 PM – Lunch

1:30 PM – Vlogging Mythbusters by Coy Caballes

2:30 PM – The Editorial Voice and Taste in Writing Tech by Jeff Villafranca

3:15 PM – Advanced WP: Portfolio & Directory Sites by Gail Villanueva

4:15 PM – WP: The Ultimate Content Management System by Karla Redor

5:15 PM – Q&A with WP Experts

Emcee: Migs Hipolito
Unfortunately Matt Mullenweg won't make it this year, but we still have an Automattic guy in the form of Beau Lebens, and interestingly, someone from Mozilla, Seth Bindernagel. As for the blogging talks, the Citizen Journalism panel is more timely than ever.
The Davao leg of the WordCamp Philippines is happening again this year, exactly one week before the big one in AIM, Makati. The difference is that it will happen in the evening and it costs cheaper:
Venue: Villa Margarita Hotel, J.P. Laurel Ave., Bajada, Davao City
Date: 12 September 2009 (Saturday)
Time: 6:00 PM to 10:00 PM
Registration Fee: ?250.00 per person (for students, ?200.00)
It's 23 days until WordCamp Philippines and 17 to WordCamp Davao. Register now!
The WordCamp Philippines Store has finally reopened its doors, with a bunch of stuff you can shop for: pins, stickers, and t-shirts—in patriotic red, yellow, and blue! With WordCamp Philippines just a month away now, this should get you right into the conference spirit.
Prices are in US Dollars and payment is via PayPal. All items are available for pre-order: you can pick them up during the WordCamp Philippines event on September 19. You can also have the merchandise delivered before said date, just contact them for further inquiries.
WordCamp Philippines is less 2 months away and registration is now open. The earlier you pay, the less you spend.
Right now it only costs Php500 or $12 for a ticket, which includes lunch and freebies. This rate lasts only until August 8. Unfortunately they only accept PayPal, but I expect that to change pretty soon.
Also watch out for t-shirts and stickers that will be sold online. Can't wait for the e-store to come back!
Calling all Filipino WordPress theme and plugin developers! WordCamp Philippines is compiling a list of developer profiles and plans to feature them on a special section on their website.
As part of our activities running up to WordCamp Philippines 2009, we'd like to feature you right here. Wouldn't it be great to have a section on this site containing all Filipino contributors to the further development of WordPress? Once we have enough of you guys in the database, we'll publish a Philippine WordPress Developers section on WordCamp.ph.
Tangkilikin ang gawang Pinoy! This is a great next step in strengthening the local WordPress community. Sign up here.
Check out this interview by Inc. Magazine with Automattic chief Matt Mullenweg on how he spends his day working on WordPress. That includes working from home (they're a virtual company but have an office in San Francisco), tuning out all distractions through music, and traveling around the world—mostly to attend WordCamps.
He then shares a neat little anecdote about his trip to the Philippines last year (check it out on page 2):
In the Philippines, people treated me like I was a rock star. After the camp was over, I spent two hours taking pictures and signing autographs. People were like, "Will you sign my laptop?" "Will you sign my badge?" "Will you sign my body part?"
(Yes, we love you that much, Matt!) It's nice to know us Filipinos have made that much of an impression on him. But really, it's also about how far WordPress has come—now on its 6th anniversary, this publishing platform is absolutely huge and adored by everyone.
For WordPress, we're trying to set up a community that will be around 10 to 30 years from now, that's independent from the whims of the market. I feel like the nonelected benevolent dictator: It's my responsibility to meet as many users as possible and direct the software project in a way that reflects their interests. Last year, I probably met 2,000 or 3,000 people who make their living from WordPress. We want to be like Google, eBay, Amazon — they all enable other people to make far more money than they capture. And that's ultimately what we're trying to do. We're trying to create a movement.

My mom started a blog a couple of weeks ago. Six years into this, and we finally made it easy enough for my mom to use.
Here's to 6 years more!
The votes are in and a date has been set for WordCamp Philippines: it's on September 19, the third Saturday of that month. Mark your calendars!
No final word on the mini WordCamp that will be held in Davao, but it will most likely take place a week before.
Finally, the organizers request everyone who will be talking about and tagging the event that they use #wordcamp-ph.
Preparations for the second ever WordCamp Philippines have begun, as announced by Blogie Robillo and the rest of the Mindanao Bloggers. It's pretty early to tell what this event will be like, but we've got several pieces of information already, like the tentative venue (Asian Institute of Management), another mini WordCamp in Davao, and a new website, WordCamp.ph, courtesy of dotPH. Expect an organizational meeting within the coming week.
How can you help? Easy peasy:
We are now calling for volunteers for the various committees (logistics, tech, food & refreshments, etc). If you would like to be a speaker at WordCamp, let me know! And if you have suggestions on topics to be presented / discussed at WordCamp, do leave a comment right here.
Are you excited yet? I know I am! New to WordCamp? Check out how last year's went down.
Noupe has compiled 25 unique uses for WordPress as more than a blog, but a full-blown CMS.
Among those mentioned is the Ford Autoshow website, which is one of the examples Karla Redor used in her talk (under the same topic) at last year's WordCamp Philippines. Check out the whole list and take down notes—the possibilities with WordPress are endless, and you'd be surprised with the features some of these sites have.
Some of the most dedicated bloggers in the Philippines come from Mindanao, and they've successfully established a strong online presence with Mindanao Bloggers. They're the group behind some of the country's biggest blogging events such as the Mindanao Bloggers Summit and WordCamp Philippines.
With regular featured blogs, general news about the region, and a blog that's proudly powered by WordPress, Mindanao Bloggers has a great mix of Pinoy, blogging, and even WordPress pride that other communities look up to.
A WordCamp Buenos Aires particpant writes:
There was a pool between the stage and the public, bats flew all the place, the Mic was a Karaoke machine.
It looks like Matt was referring to the event that took place in Davao, not the big one in Manila. Still, I'm glad Filipinos have made such a great impression on him. First it was the WordCamp Philippines t-shirt design, and now this.
(Via Winston Almendras)
The full transcript of Matt Mullenweg's interview by Annalyn Jusay of Manila Bulletin can be found on her blog. Apparently the newspaper cut the interview due to space constraints—another advantage of new media over traditional media!
But let's save that issue for another day and enjoy how the old meets the new in this interview. Some snippets below. Here is Matt's first impressions of the Philippines and its people based on our own version of WordCamp:
Q. It's your first visit to the Philippines and spent some time at the maiden Philippine edition of the WordCamp. First impressions?

A. People love taking pictures here and I prolly had more than a hundred of that in the WordCamp. It just blew my mind. It's a little bit common in other parts but not the same here. During the event, I saw that Plurk was really big. Everyone was plurking!

Filipinos are very warm, very outgoing. I think it's cultural. In places like Germany, they're a little more reserved. Filipinos like talking and communicating. You have big families, it seems. I was hanging out and this person has, like, five cousins in the room. I love that all the warmth and openness creates a very vibrant blogging community.
And here's his opinion on the divide between blogging/new media and traditional media:
Q. Now that blogging is a big thing and publicists are discovering the bloggers, what can you say about it?

A. There's a danger if you get started being invited to more events and start to be treated like traditional media. Bloggers, then, become more like traditional media. They're afraid to publish something because they might offend someone who gives them money or advertises on their blog. And that is dangerous because then, you're no different from traditional folks.

It's great that people are making money from their blogs but, just like journalists, you should try to balance the editorial and the business side. Focus on the long term, not short term.
Buddy Gancenia has made a video featuring highlights from WordCamp Philippines 2008, all under 5 minutes. Watch it:
Until next year!
At WordCamp Philippines last Saturday, a blog contest sponsored by Cebu Pacific airlines was announced. Here's the official announcement and mechanics of the Cebu Pacific Blogging Challenge.
All you have to do is write a blog post about the destinations of Cebu Pacific, making sure that when you mention the airline you describe it in a positive light. You must also link to them without rel="nofollow", without any other links in the entry.
The top 5 entries, picked by Cebu Pacific and the WordCamp organizers, will each win a domestic airline ticket.
This is open to all bloggers who are 18 years old and above (not just the participants of WordCamp). Contest runs from September 6 to October 31. Register here.
WordCamp Philippines 2008 is finally over, and I'm sure everybody had a blast. It feels futile to do duplicate it, so get the comprehensive list of blog posts about the recently-concluded event from Jehzlau. Both old (newspapers) and new (bloggers) media coverage can be found there, as well as photos from the event itself and the after-party.
Congratulations to the organizers, volunteers and speakers! And thank you to the sponsors! And of course, it was an honor having Matt Mullenweg fly over to the Philippines and grace this occasion. It won't be the same without him!
Looking forward to another WordCamp next year—hopefully sooner!
Matt Mullenweg touched down in Manila last September 2, then headed to Davao for the mini-WordCamp there. And here's his very first comment about our country:
In other news, the immigration/customs forms here are sponsored by a booze company. Smartly, though, they use carbon copy so you don't have to write the exact same thing twice, like you do in the US.
As for WordCamp Philippines itself, the organizers have sent a final email reminder for all the things you'll need to bring and do at the event.
See you there!
One week to go and the organizers of WordCamp Philippines continue to give sneak peeks of what's ahead, this time in the form of various memorabilia:
Christian Cabuay reports that Matt Mullenweg mentioned WordCamp Philippines at this year's WordCamp, held in San Francisco. Apparently the t-shirts for the local WordCamp are his favorite so far. Here's the video:
People from the audience pointed out that the sun is from the Philippine flag. To the organizers, especially the t-shirt designer Andrew dela Serna, congratulations!
Oh, and if you still want to order a WordCamp PH tee, you'll be glad to know that ordering has been reopened.
WordCamp 2008 is underway right now and Matt Mullenweg recommends ZDNet's live coverage straight from University of California San Francisco.
Here's the schedule:
9:00 a.m. The Future of Education and WordPress –
9:30 a.m. SEO Mistakes Most Bloggers Make – Stephan Spencer
10:00 a.m. Open Source Business Models – Stephen O'Grady
10:50 a.m. Andy Skelton – A musical performance
11:00 a.m. LOLcats and the Secret of Virality
11:30 a.m. WordPress & Microformats
12:00 p.m. Lunch
1:00 p.m. Switching to WordPress Painlessly – Lloyd Budd
1:20 p.m. 450 WordPress Power User Tips – Lorelle VanFossen
1:40 p.m. Hassle-free Upgrades – Sam Bauers
2:00 p.m. State of the Word – Matt Mullenweg
3:00 p.m. Get Friendly with BuddyPress – Andy Peatling
3:20 p.m. Democratizing the Web through Global Voices – Jeremy Clarke
3:40 p.m. An interview with Om Malik
4:00 p.m. Riding the Crazyhorse – Liz Danzico and Jane Wells
5:00 p.m. A musical performance by Chuck Lewis aka SEO Rapper
5:10 p.m. Kicking Ass and Creating Passionate Users – Kathy Sierra
Visit the blog post for a glimpse of what's to come for our very own WordCamp Philippines. It's a good read not only for WordPress fans but also for bloggers and technology enthusiasts in general.
See also the live Twitter updates coming in via its search interface.
Those who registered for WordCamp Philippines should have received their Camper's Pass by now, which will be exchanged for the Camper's badge and kit on the day of the event.
Participants should also take note of the venue guidelines which were emailed and posted at the website. You'll have to register your equipment if you're bringing gadgets larger than cellphones/PDAs. Be sure to bring a valid ID and leave your slippers at home.
Finally, please do register for the breakaway sessions in the morning so the organizers have a good idea of the audience size per topic. The complete schedule for the whole day is posted here. And if you didn't make it to the list of registered campers, you'll be glad to know that you can still attend those sessions.
Here's an interesting new development in the upcoming WordCamp—WordCamp San Francisco, that is. Camper badges will use the gravatars of the registered attendees.
So now I wonder if the folks organizing WordCamp Philippines will do the same. This also begs the question as to how many Filipino WordPress users—and Filipino bloggers in general—use Gravatars. Do you?
Yes, folks. Aside from the upcoming WordCamp Philippines 2008 in Manila, the same organizers of said event have come up with WordCamp Davao on September 4. Matt Mullenweg will also be there.
WordCamp Davao will be a chance for the bloggers down South to learn from the master himself, to find out more about making full use of the power of WordPress. The Davao affair won't be as comprehensive as the main event in Manila, but it will be something to look forward to just the same! So, fellow Dabawenyos and Mindanaoans, you're getting what you've asked for!
Venue is currently TBA, but it will be held from 6:00 to 10:00pm. Register here.
Campers will now have a good idea of how WordCamp Philippines 2008 will go as the event schedule has just been posted.
In the morning there will be breakaway sessions under the deployment and development tracks. Unfortunately you can't attend all of them and you have to indicate which one you plan to be in.
After lunch, there will be plenary sessions from Matt Mullenweg, Aileen Apolo, and Regnard Raquedan. This will be followed by a powwow with Matt, an installfest, and the after-party at mag:net Cafe.
We're getting closer and closers to one of the biggest Philippine blogging events of the year, and it just so happens it's also in September, like WordCamp Philippines. Yes, the Philippine Blog Awards night will take place on September 21, 2008, at the Coral B room of One Esplanade (near SM Mall of Asia and Manila Bay).
Here's a video announcement and tour of the venue:
A few minor notes on this event: the date was originally August 30, but because it was announced that the Eraserheads reunion concert will be held that night, PBA 2008 had to be rescheduled. Also, the website has been migrated to a new server, so you may be seeing the default WordPress theme instead of the snazzier design.
Available in royal blue and maroon (said to match the colors of the Philippine flag), the WordCamp Philippines 2008 t-shirts are now available for pre-orders at Php400 each. Since the tees will be available by August, you can have them sent via courier or pick them up on the day of the WordCamp itself.
You can also expect official WordPress goodies like t-shirts and mugs. It looks like the campers will be taking home a lot of stuff from this event!
They're selling for P400 each — tailored, great fit, the works! You'll also get your hands on WordPress t-shirts and mugs, but that'll be for the event proper. For now, you can order WordCamp Philippines t-shirts ahead of September.
Click here for the t-shirt designs, measurements, and of course the ordering form.
The organizers of WordCamp Philippines have several more announcements you should be aware of:
I think the last bullet point is reason enough to be there.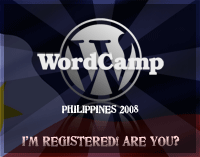 WordCamp Philippines 2008, organized by the Mindanao Bloggers, is definitely coming and this is your chance to be part of it. Both WordPress and non-WordPress users are highly encouraged to join. Register now!
It's completely free, but in exchange you have to write a blog post about the event containing specific information at the page following the registration form.
Registrants are encouraged to put "I'm registered! Are you?" buttons in their blogs to promote the event. Sali na!
Event sponsors:
What's the latest with the planning stages of WordCamp Philippines? Three major things. First, a venue has been finalized: College of St. Benilde in Taft Ave., Manila. Since the actual city of this WordCamp event has been decided upon, I think it's fair to call it "WordCamp Manila" as well, in the tradition of the first WordCamp, which was in San Francisco.
Next up are the topics. No speakers have been announced yet, although we're expecting—right now it's hoping—some very famous names in the WordPress community to drop by. In the meantime, some ideas for the sessions during WordCamp have been posted, and you can leave your own suggestions through the contact form.
Finally, some money matters. Sponsorship packages have been posted, which not only give you an idea of how much needs to be spent for this event to be a success, but it also hints at the goodies WordCamp participants will be receiving.
So things are finally shaping up for the very first WordCamp Philippines. If you haven't marked your calendars yet, again, it's on September 6th. See you there!
A date has been set for the first ever WordCamp Philippines: October 25. Mark your calendars!
As for the venue, it is sure that it will be held in Metro Manila. This could mean a doubly difficult task for the event organizers considering they're from down south—Mindanao, to be specific.
There are no details on the event program yet, but there will be at least two simultaneous tracks: one for developers and the other for non-developers. Here's hoping at least one prominent figure in the international WordPress community will visit our shores! Who do you want to come? Matt Mullenweg? Lorelle VanFossen? Mark Ghosh? Hey, we can dream, right?
It's official: there's a WordCamp Philippines coming this 2008. As if we haven't had our fill of blogging events over the past few weeks! What makes WordCamp so different is that it's solely dedicated to WordPress users. This is definitely a first here in this country.
A group of WordPress enthusiasts, developers and users are embarking on this project to bring WordCamp to the Philippines for the first time. The core of this group successfully organized the 1st Mindanao Bloggers Summit, which was held in Davao City last 27 October 2007. This time, they are targeting a more nationwide scope, but for more focused content.
There's not much information available yet, but it's pretty obvious who's spearheading this initiative. Be sure to subscribe to the WordCamp Philippines feed for any new developments. I sure hope they make all those WordPress goodies available at the event!
Update (May 8): There will be a meeting on May 9 at Fagioli Coffee Club in Davao City. The core group for the WordCamp Philippines organizing committee has also been revealed.
Update (May 9): More details trickle in via this Inquirer news article. Expect highly specialized sessions on creating and running blogs with WordPress.