Juned Sonido interviews Alex Villafania, former online at Inquirer.net, to discuss two of the most important legal issues in the contest of blogging and online media: copyright and libel. The latter is a hotter topic these days because of the libel complaint filed against blogger "Ella Rose" by the National Bureau of Investigation and Department of Social Welfare and Development. She previously claimed that the DSWD was not distributing relief goods during the Ondoy disaster. Here's Alex's comment on such a case:
Baratillo.net: Is the blogger or on-line media practitioner liable for comments said/posted on his blog, forum or website?

Alex: If the law is to be strictly followed, to the last word, yes. Because blogs and online media are public communiques, and are read by more than two people (libel requires 3 people or so — the 2 parties involved and a third-party to actually hear it), they can put under the libel clause.

Article 355 states that "a libel committed by means of writing, printing, lithography, engraving, radio, phonograph, painting, theatrical exhibition, cinematographic exhibition, or any similar means, shall be punished by prision correccional….in addition to the civil action which may be brought by the offended party." That also includes articles written in forums, email and yes, online stories and blogs.
Year in and year out, legal issues are one of the biggest topics at the iBlog Summit, and with yet another blogger making mainstream news, this will surely be tackled again. Alex Villafania's interview is a glimpse into that discussion, so consider this an early look into that.
Catch the complete, must-read interview here.
WPVibe has an exclusive interview with Automattic's CEO, Toni Schneider. We get a look at how this telecommute-friendly company gets things done (P2, IRC, and Skype), a bit of WordPress.com talk, and Toni's personal life.
What is one thing you've learned while being at Automattic that has made you a better CEO?

A brand new thing that I had never done before was figuring out how to build a distributed company, where team members work from places all over the world. That's been a great learning experience for me. I love how much personal freedom the distributed model gives people. One of our "Automatticians" told us just yesterday that he is going to Chile for 40 days. He has rented an apartment and will work from there. That's the kind of thing you can do in a distributed organization. The challenge is to create a sense of teamwork and common purpose despite being spread so far apart.
And here are some amazing figures for Automattic's other services:
1 billion avatar requests on Gravatar every day
220 million visitors on WordPress.com every month
117 million people reached by PollDaddy every month
A lot of times we more closely associate the WordPress project with just-turned-26 Matt Mullenweg, and while is is the founder after all, it's great to get to know other members of team Automattic.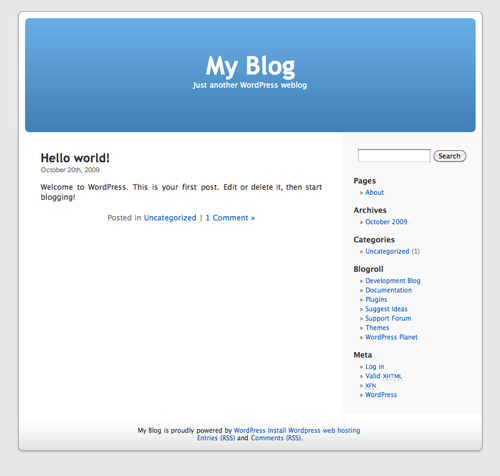 The Huffington Post has written a piece on Kubrick, the default WordPress theme since 2005. Tina Daunt interviewed its creator, Michael Heilemann, and tells how his theme "changed the internet".
Perhaps Kubrick's biggest contribution is that it has brought cyberspace closer to the realization of one of its earliest and most consistent ideals. Web designers and theorists have long talked about the democratization of publishing on the Internet, the fact that the web puts anyone with a computer on an equal footing with the elite that traditionally has owned the printing presses. In many ways, though, it was a meaningless democracy until the people with laptops had the ability to design and to package their work in the same way traditional media has always done.
No better time than now to take a look back at a fascinating part of WordPress history, especially since a new default theme this 2010 is being planned. When that day comes, we'll definitely miss you, dear Kubrick!
Check out this interview by Inc. Magazine with Automattic chief Matt Mullenweg on how he spends his day working on WordPress. That includes working from home (they're a virtual company but have an office in San Francisco), tuning out all distractions through music, and traveling around the world—mostly to attend WordCamps.
He then shares a neat little anecdote about his trip to the Philippines last year (check it out on page 2):
In the Philippines, people treated me like I was a rock star. After the camp was over, I spent two hours taking pictures and signing autographs. People were like, "Will you sign my laptop?" "Will you sign my badge?" "Will you sign my body part?"
(Yes, we love you that much, Matt!) It's nice to know us Filipinos have made that much of an impression on him. But really, it's also about how far WordPress has come—now on its 6th anniversary, this publishing platform is absolutely huge and adored by everyone.
For WordPress, we're trying to set up a community that will be around 10 to 30 years from now, that's independent from the whims of the market. I feel like the nonelected benevolent dictator: It's my responsibility to meet as many users as possible and direct the software project in a way that reflects their interests. Last year, I probably met 2,000 or 3,000 people who make their living from WordPress. We want to be like Google, eBay, Amazon — they all enable other people to make far more money than they capture. And that's ultimately what we're trying to do. We're trying to create a movement.

My mom started a blog a couple of weeks ago. Six years into this, and we finally made it easy enough for my mom to use.
Here's to 6 years more!
WordPress is going interactive with WordPress.tv, the official site of all video tutorials about WordPress. This new website was just announced at Las Vegas WordCamp, the first WordCamp of the year. Here's what to expect from the site:
Installation and usage tutorials for both WordPress.org and WordPress.com users. If you're a visual learner, you'll enjoy this a whole lot more than browsing the Codex or the Support Forums.
WordCamp footage, including behind-the-scenes. Attend WordCamp without having to leave your desk with WordCampTV.
Slides, interviews, and audio by the Automattic team and other WordPress experts. Connect with the people that are making your beloved WordPress the most excellent blogging software out there.
Other WordPress media suggested by you! Know of a great WordPress-related video? Send it via the contact form.
Manual Magazine is featuring several famous Pinoy bloggers in this month's issue. Read interviews on and articles by Mike Abundo, Coy Caballes, Jayvee Fernandez, RJ Ledesma, Rico Mossesgeld, Regnard Raquedan, Markku Seguerra.
Blog Issue! Do you have a blog? If you're Pinoy and you're young, chances are, you do. The time has come to train the spotlight on the blogging phenomenon as MANUAL devotes our annual tech issue on blogs and bloggers. Get to know eight bloggers from one of the country's top blogging communities.
The other week I wrote about Automattic pulling 200 themes from the WordPress theme directory. Since then we've been waiting for an official word from Matt Mullenweg and it couldn't have come in a better form: a live interview on the WordPress Weekly Podcast, hosted by Jeff Chandler. For those who weren't able to listen to it, here's part 1 of the transcript courtesy of WP Snippets.
One of the big questions regarding the team's decision is: "why do they have to approve themes based on the content and links on MY site?" It's a pretty sound question because a website is a pretty big leap from a theme. Well Matt likens it to WordPress endorsing Expression Engine, a paid CMS solution, on their website:
First of all, you can do whatever you like on any website. There's nothing built in WordPress that's going to you. I am not even going to tell anyone or tell you that you should change things. But WordPress.org is sort of a community hub where we've tried to promote the open source stuff.

So, just like I wouldn't want to, I don't know, umm… let's say a commercial CMS, Expression Engine. Ok… I wouldn't have links advertising Expression Engine on WordPress.org. I wouldn't have links advertising other things that are not on open source, even ones that actively violate our license.
Here's another burning controversy: is Automattic doing this to keep the profitability of WordPress to itself?
JC: Ok, so here's the next question: Why is it that so many people within the inner circle of the WordPress community believe you and Automattic don't want anyone else profiting through or around WordPress? It seems to be this notion, primarily from those who make a living selling premium themes.

Matt: *laughs* Well, I have said it before that it's hard to convince anyone that the way that they currently making money is wrong, *laughs* you know, if you are paying your bills with the way you're making money, you're going to find ways to rationalise and… sort of believe in that. There are, at every WordCamp, there will be 100 people there, and there may be 20-30 there making their living from WordPress right then.

And it's all sorts of different things: sometimes it's developing sites, like their agency is a site developer or designers; sometimes they're provide training services – education; sometimes they're just working for a company and being like the sort of full time WordPress guy.

But if I had to estimate, there are probably tens of thousands of people out there that make their living either with or on top of WordPress, and that's not even counting bloggers. If you talk about a network like Digg or ??? or TechCrunch or something, also built entirely on top of WordPress.

So I'm totally for that. And you know what, honestly, the GPL is very commercially friendly. It was designed to allow commercial enterprises to thrive. You know some people say it doesn't work, but you only have to look at one, the growth of WordPress, and two, the grown of the open source world in general for the past thirty years to say 'Wow, this is actually a very, very powerful force.'
Bottom line here is, don't make free, GPL-compliant WordPress themes and submit them to the directory if your only motive is to get people to buy proprietary WordPress themes. (Helpful hint: you can make money from WordPress in many other ways. If it's specifically themes, take a look at Brian Gardner's Revolution Two. He gives away high-quality themes for free but charges for support.)
Matt and the gang are just trying to keep the WP community a good one.
PinoyBlogero is the blog of Karlo Licudine, a twentysomething college student writing about the Philippine blogosphere and blogging in general. If you want to learn how to start blogging and become more successful at it, this is the blog to read.
Karlo has gained recognition in several different awards, from an interview in a local newspaper, to joining the ranks of the top probloggers and influential blogs in the country, to winning the best technology blog award in the 2008 Philippine Blog Awards.
Readers of PinoyBlogero will also enjoy his unique brand of comics sprinkled across the different posts (it's even branched out to a separate blog, BlogComics.net).
Coy Caballes has posted a partial video of an interview about blogging and the Philippine Blog Awards in Mornings @ ANC. In the video, TJ Manotoc interviews Juned Sonido, Ferdz Decena, and Karlo Licudine. Watch out for part two!
Also check the links in the post for more coverage by other stations including GMA, QTV, and TV5. Who says the "old" and "new" media can't get along?
The full transcript of Matt Mullenweg's interview by Annalyn Jusay of Manila Bulletin can be found on her blog. Apparently the newspaper cut the interview due to space constraints—another advantage of new media over traditional media!
But let's save that issue for another day and enjoy how the old meets the new in this interview. Some snippets below. Here is Matt's first impressions of the Philippines and its people based on our own version of WordCamp:
Q. It's your first visit to the Philippines and spent some time at the maiden Philippine edition of the WordCamp. First impressions?

A. People love taking pictures here and I prolly had more than a hundred of that in the WordCamp. It just blew my mind. It's a little bit common in other parts but not the same here. During the event, I saw that Plurk was really big. Everyone was plurking!

Filipinos are very warm, very outgoing. I think it's cultural. In places like Germany, they're a little more reserved. Filipinos like talking and communicating. You have big families, it seems. I was hanging out and this person has, like, five cousins in the room. I love that all the warmth and openness creates a very vibrant blogging community.
And here's his opinion on the divide between blogging/new media and traditional media:
Q. Now that blogging is a big thing and publicists are discovering the bloggers, what can you say about it?

A. There's a danger if you get started being invited to more events and start to be treated like traditional media. Bloggers, then, become more like traditional media. They're afraid to publish something because they might offend someone who gives them money or advertises on their blog. And that is dangerous because then, you're no different from traditional folks.

It's great that people are making money from their blogs but, just like journalists, you should try to balance the editorial and the business side. Focus on the long term, not short term.