There are a lot of helpful tips for organizing a WordCamp that can be found at the official WordCamp how-to site, but what's got people buzzing is the announcement of stricter guidelines about who can and can't be associated with an event, from individuals to companies in various roles as organizers, speakers, and sponsors. This all depends on whether they comply with WordPress philosophies.
Lately there have been a number of WordCamps accepting speakers, sponsorships, door prizes, etc from people/companies acting in violation of the WordPress license (GPL v2) with regard to their themes/plugins. It is the official policy of WordCamp that WordCamps not provide publicity/a platform for such individuals/businesses. They are welcome to attend, but WordCamps may not have non-GPL-compliant people as organizers, sponsors, or speakers.
It's only fair that WordPress stand its ground on matters relating to the GPL, WordCamps included. For participants who aren't as familiar with the software, its community, and philosophy, WordCamp is the perfect venue to discuss those things.
I'm curious to see if any part of this controversy will affect the upcoming WordCamp Philippines 2010.
The complete list of guidelines can be found at WordCamp Central.
This week the WordCamp Philippines organizers have announced the venue for the conference to be held on October 2: it's back to College of St. Benilde in Taft Ave., Manila in partnership with the Association of Information Management. It's also been announced that Matt Mullenweg will be gracing the event, so better RSVP on the event page now.
You're also invited to complete a short survey which covers your expectations for the event. Also note that the entrance fee will cover lunch, schwag, and a WordCamp Philippine shirt.
Missed iBlog 6? You'll be happy to know that both Carlo Ople and Marghil Macuha himself blogged about his SEO talk at the 2-day event. New Media Philippines posted a summary of basic SEO practices while Macuha.com posted links to SEO e-books you can download for free.
The first most important rule is to SEO keywords that are actually being searched for. There's no point in going through the grueling process of link building if they keyword you're targeting isn't even worth the effort. Marhgil explained that a good tactic is to make posts that provide solutions and answers, something that I already tackled in a previous post.
Download Marghil's slides here. Hope the other speakers can also post their presentations online!
Gadgets Magazine, together with several other commercial sponsors, is holding its own blogging event this weekend called Pinoy_Blogfest 1.0 at the Richmonde Hotel in Ortigas.
Should bloggers observe journalistic ethics? Can Bloggers make money from their web presence? Is there a blog copyright? These are the issues that Pinoy_Blogfest 1.0 will seek to address.
The programme is as follows:
08.00 am Registration
09.00 am Opening of Exhibits / Networking Opportunities
09.30 am Welcome Remarks / Keynote Speech "Ethical & Social Responsibility of New Media" / Light Snack
10.00 am Plenary Panel / "Optimizing the Economic Potential of your Blog" (Abe Olandres) / "Bloggers as Media Practitioners" (Ira Panganiban) / "Creating a Bloggers' Code of Ethics" (Yvonne Chua)
12.00 nn Lunch / Luncheon Speaker (Coca-Cola CSR)
01.30 pm Breakout Session I / A. Technology & Trends / B. Photography / C. Home: Digital Living
03.00 pm COKE Break
03.30 pm Breakout Session II / D. Mobile Networking / E. Gaming / F. Food & Travel, Health & Fitness
05.00 pm Networking Opportunities
05.30 pm Cocktails / Announcement of Blog Competition Criteria & Entry Guidelines
06.30 pm Entertainment / Raffle
07.30 pm Closing
Fifty to sixty free tickets will be raffled off but the regular rate is Php2,500, inclusive of meals. Ask for a registration for by emailing gadgetsmag.events@gmail.com. Call 332-4005 for more information.
The first Cebu Blog Camp will be held on May 22 at the CAP Auditorium, CAP Complex.
Cebu Blog Camp is an event that focuses on honing the skills of bloggers offline. This event will gather a large number of bloggers all over Cebu to discuss the latest developments on the Web, Search engines, and making money online.
No details on the topics and speakers yet, but the about page gives details on the organizers. Registration begins today. The event is free of charge but only the first 200 signups will enjoy seats. Always great to see new blogging events all around the country like this.
Blogging 101 Hands-On Workshop will be held on April 24 at the Universe Internet Cafe, SM City Pampanga from 10:30 am to 6:30 pm. This intensive workshop taught by Janette Toral is organized by the Pampanga Bloggers. Here's an outline of the event's proceedings:
Introduction to Blogging
Find and monitor blogs and topics of your interest
Set up and configure your first blog
Blog ethics (Yes! There is also blogging ethics)
Content Development Process Explained
Monitor Blog Performance
Promotion and Advertisement
Trends in blogging
How to make money and make a living out of blogging
Registration is Php800. Register here. Great to see the northern part of the Philippines mobilizing its own blogging groups and events!
There's a new date to mark on your calendars for the third WordCamp Philippines: October 2. Last December the organizers set August 28 as the date to save, but it got changed to work with Matt Mullenweg's schedule.
The date for the third iteration of one of the most anticipated blogging events in the Philippine blogosphere is set. Mark your calendar, folks. WordCamp Philippines is on October 2, 2010 and we're announcing it this early — that's how excited we are!

WordPress developer and Automattic founder Matt Mullenweg will be back to attend the event.

The event is still in the planning stages and the organizing team welcomes your suggestions. Together, we can make this year's version a community effort. So get those creative juices flowing and tell us your ideas in the comments section.

And the more the merrier, right? Help us spread the word about WordCamp Philippines 2010. Tell your friends, blog about it, plurk it, tweet it, post on walls, or make smoke signals.

Let's get the ball rolling!
Other than that, no new details yet, but stay updated with these links:
iBlog6 has opened its doors for online registration, on this page. The 2-day event is completely free, so there's absolutely no reason not to sign up now. The schedule has also been posted, which indicates the difference between the talks on April 16 and 17:
The first day (April 16) is targeted for businesses and entrepreneurs wanting to understand how to tap blogs as a medium to promote their products and services. The second day (April 17) is meant to everyone interested about blogging.
Edit: No word yet on there will be an afterparty this year. Keep up with all the updates at the iBlog site.
The call for nominations for the DigitalFilipino Social Networking Awards have opened. The competition, which is part of the 2010 Social Networking Conference, recognizes the Philippines' best efforts in social media and social network marketing & advertising. Here are the categories:
Social Network
Virtual Worlds / Games
Social News, Bookmarking, Media Voting
Photo / Video / Media Sharing
Ratings / Reviews
Forums
Micro-blogs
Blogs
Search engine marketing
View the last year's winners here. The social campaigns must have occurred from April 1, 2009 to March 10, 2010. Judging criteria will be equally divided among the following: design, creativity, copywriting, impact. Deadline for nominations is on March 13.
iBlog6: the 6th Philipping Blogging Summit is happening on April 16 and 17 at the Malcolm Theater, UP College of Law, UP Diliman, QC. Here's what to expect in this two-day event:
iBlog6 is targeted to take place on April 16 and 17. The first day will focus on Blogging for Business (entrepreneurs, corporation, non-government organization, and the likes). We would like to receive proposals that can help businesses understand better on how blogs can be tapped as a tool for promotion and how to work effectively with bloggers (through events, contests, advertising, and the likes).

The second day will focus on topics for Bloggers that includes introduction to blogging, use of photos and videos, policies, and promotion. We also want to look at political blogging, election coverage, and building offline blogging communities.
Interested speakers may now submit topic proposals before the January 31 deadline here.
iBlog is also launching a contest for the redesign of its logo. The mechanics are listed here. Submission of entries runs from February 1 to 15 and the winner will win an 8 GB iPod Nano.
Now on its second year, the Pinoy Expats/OFW Blog Awards will be held on December 27 at the Philam Life Theater on UN Ave., Malate, Manila. There are 37 nominees whom you can vote for at the sidebar of the website.
Aside from the blog awards itself, there's also a photo contest open to all Pinoy bloggers abroad.
Can't make it to the awards night? Check this page for live streaming of the event.
WordCamp Philippines organizer Ria Jose announced over the weekend that a date has been set: August 28. And even more exciting is that Matt Mullenweg will be returning to next year's event.
There are no further details other than that, but those are the two most important ones right now, don't you think? Kudos to Avatar Media and the rest of the WordCamp PH crew for starting the buzz this early.
Two huge events for Mindanao bloggers are happening on the same day at the same venue: this Saturday, October 24, at the Pearlmont Inn, Limketkai Drive, Cagayan de Oro City. First comes the Mindanao Bloggers Summit from 8:00 am to 5:00 pm, then the Philippine Blog Awards – Mindanao leg happens after at 7:00 pm.
Register for MBS3 here. This year's theme is "Mindanao Bag-uhon ang Panan-aw" or "Changing the way people see Mindanao". Looks like a jam-packed and exciting couple of events happening down south.
Congratulations to all the winners of this year's Philippine Blog Awards!
Main Awards
10 Best Blog Posts
Special Awards
Check out Tonyo Cruz's post for the complete list of awards and other highlights from the awards night last October 9.
Stay tuned for Visayas and Mindanao legs happening in the next couple of weeks.
Register to attend the Philippine Blog Awards Luzon night on Friday, October 9, by completing this form. There's also a special raffle during the event courtesy of Nokia: you can win an E75 by signing up at Ovi, snapping a photo, and being the lucky pick. Complete mechanics listed here.
Finally, don't forget to send in your vote for the Chikka Readers' Choice award as the deadline has been extended to October 8.
The Philippine Blog Awards organizers and RockEd Philippines are working together to help the victims of Typhoon Ondoy. Everyone is invited to drop off relief goods during the PBA Luzon event on October 9:
These donations will be collected at the lobby of the PETA-Phinma Theater before the program begins. The collected donations will be turned over to RockEd for distribution to victims of the recent typhoon.
With this year's theme being "One Blogging Nation", the spirit of Bayanihan through this blogging event and community is stronger and more relevant than ever. Stay tuned for donation drive announcements in the upcoming Visayas and Mindanao events.
The 2009 Philippine Blog Awards finalists have been announced. We have lots of new categories this year, and that means more finalists and more winners. Check out if you or your favorites made it. Congratulations and good luck!
Take note that this is for the nationwide categories; the regional finalists will follow soon. And speaking of which, pre-registration for the Visayas event is up. It will be held on October 18 at Ayala City Sports, Cebu Business Park.
Nuffnang has launched the first regional blog awards in the Asia-Pacific. It's going to be a glitzy whole-day affair in Singapore on October 23, where over 400 bloggers will walk down the red carpet, eat sumptuous dishes, and enjoy famous acts from the region.
Vote for your favorite blogs here: there are 60 finalists under 12 blogging categories, including the Philippine blogs of Jim Paredes, Luc Melgar, Bryan Boy, and more.
You can also score tickets to the awarding ceremony by writing two blog posts, the mechanics of which are detailed here. Over SGD$5000 worth of prizes are to be given out.
Don't forget to follow them on Twitter for instant updates.
WordCamp Philippines 2009 was a great follow-up to the one held last year. A lot of the campters live tweeted and plurked the event, while the videographers provided a livestream.
WordCamp had a good balance of topics for both designers/developers and bloggers. Here are the slides for two of the most awaited talks that day from Automattic and Mozilla representatives:
Note: even though Matt Mullenweg couldn't make it, he made a special video just for the participants.
(Download the presentation here)
Hope the other speakers can upload their slides as well. Congratulations to the Mindanao Bloggers for another successful WordCamp Philippines!
The Philippine Blog Awards 2009's first teaser video was a little skit entitled "Blogger". Now we have a fun little "Jingle" featuring the Philippines' most famous blogs. There's even a little nod towards WordPress at the beginning. Check out the lyrics:
Lyrics and Music by: Coy Caballes
Guitarist: Markku Seguerra

Binuksan ko ang laptop
Homepage ko ay Technograph
Ako'y Pinoy Blogero
Sa WordPress ay adik ako

Let's Go Sago, Lakwatsero
Coron hanggang Batangas sobrang Byahilo
Kahit ako'y mag-Visit Sagada
Basta may WiFi ay solved ka na

Laging Good Times Manila
Basta naka-online enjoy tropang Foodista
Alam mo lahat Da Who sa showbiz landia
Talo mo pa si BryanBoy Abunda

Over the top sa page views
kahit Patay Gutom busog ka sa news
Dumating si Mommy galing Project Manila
Nahuli niya si daddy nasa Facebuko niya

Let's go, c'mon! Kung gustong sumikat
Just wear your Happyslip at sa Merryland umakyat
FunnySexy man o Komikero ang drama
Sa Radio Cubao natin wala nang panama

Okay lang ang maging Misteryosa
Basta Awesome Planet ating ipakita
Kahit sino ka pa, Batang Yagit o Tanggera
Basta Pinoy at Blogger… Tayo ay iisa
And don't forget, catch the Flippish livestream on October 9 at 6:00 pm!
It's one week to go before WordCamp Philippines 2009 the program is finally out:
8:00 AM – Registration

9:00 AM – Welcome Remarks
Backgrounder: Mindanao Bloggers Community by Blogie Robillo

9:30 AM – Meet the WordPress Family by Beau Lebens

10:30 AM – WordPress in the Wild by Markku Seguerra

11:15 AM – Citizen Journalism in the Context of the 2010 Elections by Danilo Arao

11:45 AM – A quick look into the Mozilla community through the lens of localization by Seth Bindernagel

12:25 PM – Lunch

1:30 PM – Vlogging Mythbusters by Coy Caballes

2:30 PM – The Editorial Voice and Taste in Writing Tech by Jeff Villafranca

3:15 PM – Advanced WP: Portfolio & Directory Sites by Gail Villanueva

4:15 PM – WP: The Ultimate Content Management System by Karla Redor

5:15 PM – Q&A with WP Experts

Emcee: Migs Hipolito
Unfortunately Matt Mullenweg won't make it this year, but we still have an Automattic guy in the form of Beau Lebens, and interestingly, someone from Mozilla, Seth Bindernagel. As for the blogging talks, the Citizen Journalism panel is more timely than ever.
Can't make it to the Philippine Blog Awards on October 9? Flippish will be streaming the awards night live on its website. And it won't be a delayed, low-quality stream, but something that will rival TV productions:
This event is dappled in awesomeness. We're trying something new this year — a live stream coverage of the event over the Internet courtesy of Flippish. If you're expecting fixed point webcam quality work with a 30 second delay, well we're out to prove you wrong. The live coverage has similar production value as on television, except that everything will be streamed via a dedicated line over the Internet. For those who will be unable to join us on that day, the live stream is actually the best way to follow the awards night.
Enjoy this teaser video too:
IMV Solutions and YugaTech are holding a blog raffle where 3 passes (worth Php9,500 each) to the Search Engine Marketing Conference 2009 are at stake. The event will be held on October 1 and 2 at the Grand Ballroom of Hotel Intercontinental in Makati City.
The Search Engine Marketing Conference (SEMCON) Philippines 2009 is the leading edge event for sharing real world information about the growing search industry, with key topics in search engine marketing, search engine optimization, pay-per-click, conversion optimization, web analytics, viral & word-of-mouth marketing and social media & community-driven marketing.
Answer the question "Why do you want to attend SemCon 2009?", follow @semconph on Twitter, and link to the the two sites. Deadline is on September 15. Complete mechanics here.
The Davao leg of the WordCamp Philippines is happening again this year, exactly one week before the big one in AIM, Makati. The difference is that it will happen in the evening and it costs cheaper:
Venue: Villa Margarita Hotel, J.P. Laurel Ave., Bajada, Davao City
Date: 12 September 2009 (Saturday)
Time: 6:00 PM to 10:00 PM
Registration Fee: ?250.00 per person (for students, ?200.00)
It's 23 days until WordCamp Philippines and 17 to WordCamp Davao. Register now!
The Internet and Mobile Marketing Association of the Philippines (IMMAP) is holding its third summit on August 25 and 26 at the SMX Convention Center, Mall of Asia. With the theme "Digital Delivers", the event will feature the most prominent industry figures discussing digital marketing ideas that will help tap into the 23 million internet users and 63 million mobile users in the country:
Registration costs Php12,000, with special discounts for early birds, IMMAP/PANA/4AS members, academe/governement delegates, and group reservations. They're also raffling off a Canon PIXMA printer and a Powershot A470 digital camera for online registrants.
More information about the event here.
The WordCamp Philippines Store has finally reopened its doors, with a bunch of stuff you can shop for: pins, stickers, and t-shirts—in patriotic red, yellow, and blue! With WordCamp Philippines just a month away now, this should get you right into the conference spirit.
Prices are in US Dollars and payment is via PayPal. All items are available for pre-order: you can pick them up during the WordCamp Philippines event on September 19. You can also have the merchandise delivered before said date, just contact them for further inquiries.
Once again, Blogie Robillo is organizing an advanced training seminar on WordPress deployment, usage, and management–this time on July 25 in Cagayan de Oro City. Specific topics include: WP installation & maintenance, web hosting basics, understanding WP themes, choosing & managing WP plugins, managing content on WP, and monetizing your WP blog with Google AdSense.
Signup here. The seminar costs Php500 and will go last from 9:30 am to 5:00 pm.
Still waiting for WordPress seminars in Metro Manila, guys!
WordCamp Philippines is less 2 months away and registration is now open. The earlier you pay, the less you spend.
Right now it only costs Php500 or $12 for a ticket, which includes lunch and freebies. This rate lasts only until August 8. Unfortunately they only accept PayPal, but I expect that to change pretty soon.
Also watch out for t-shirts and stickers that will be sold online. Can't wait for the e-store to come back!
Pre-registration for the 3rd Mindanao Bloggers Summit is now open.
MBS3, whose theme this year is "Mindanao Bag-ohon sa Panan-aw" or "Changing the way people see Mindanao", will be held on October 24 in Cagayan de Oro and is organized by the CDO Bloggers, Inc.
(via Blogpress.ph)
Heads up, Mindanao folks! There are two WordPress seminars coming to your area—Davao City, to be specific—this July. WordPress for Bloggers and WordPress as a CMS. Fees vary from Php150 (students) to Php450 per person. Here's the sked:
SEMINAR 1: WORDPRESS AS CMS

Date: 3 July 2009 (Friday)
Time: 5:00 – 8:00 P.M.
Venue: Lane Systems conference room, Wheels n' More Drive, J.P. Laurel Ave., Bajada, Davao City (in the compound where Urban Club & AutoShop are located)
Fee: ?450 per person
This seminar will tackle the fundamentals of the WordPress engine: the templating system; built-in PHP functions for delivering & manipulating content; design elements; introduction to theme & plugin design. Installation and maintenance best practices will also be included. Prerequisites: PHP, XHTML & CSS.

SEMINAR 2: WORDPRESS FOR BLOGGERS

Date: 4 July 2009 (Saturday)
Time: 2:00 – 6:00 P.M.
Venue: PhilNITS Lab, 5/F Mintrade Bldg, Monteverde cor. Sales Sts. (this is the building where DTI-11 is located; at the ground floor is PNB)
Fee: ?300 per person | Student rate: ?150
The seminar for bloggers will feature advanced coverage on WordPress deployment & utilization: how to make the most out of your self-hosted WordPress installation. Important topics: theme management; plugin management; SEO basics; introduction to the world of server hosting. Bonus topic: AdSense integration and optimization, c/o Lyle Santos.
Sign up here. How I wish there were something like this in the metro! We'll have to be a little more patient for the upcoming WordCamp Philippines, then.
The votes are in and a date has been set for WordCamp Philippines: it's on September 19, the third Saturday of that month. Mark your calendars!
No final word on the mini WordCamp that will be held in Davao, but it will most likely take place a week before.
Finally, the organizers request everyone who will be talking about and tagging the event that they use #wordcamp-ph.
That's right folks, preparations for this year's Philippine Blog Awards have begun and two things are now set in stone: the date, October 9, and the venue, Megatent Events Venue (30 Meralco Ave., Bgy. Ugong, Pasig City).
For those who missed last year's event, check out the night's highlights courtesy of Buddy Gancenia:
The Philippine Blog Awards 2: Awards Night Highlights from BUDDY GANCENIA on Vimeo.
Aside from the merging of WordPress.org and WordPress MU, many other announcements were made during WordCamp San Francisco's State of the Word, delivered of course by Matt Mullenweg. Check out the summary posted by The WordCamp Report, including this Q&A.
Some highlights:
Lots of changes that caused "minor revolutions": return of Quick Post, threaded comments, 1-click upgrades, etc.
WordPress core focuses on speed and simplicity, then "let the people do whatever they want"
WordPress themes and the GPL still a big issue
WordPress is the fastest growing skill on Elance
WordPress.tv
WordPress 2.8: coming soon! New features: rewritten Widgets, theme directory built into admin, CodePress syntax editor, multiple galleries per page, per page options for plugins, improved language support
WordPress 2.9 to focus on under-the-hood improvements
For more links, catch this round up by Weblog Tools Collection.
Preparations for the second ever WordCamp Philippines have begun, as announced by Blogie Robillo and the rest of the Mindanao Bloggers. It's pretty early to tell what this event will be like, but we've got several pieces of information already, like the tentative venue (Asian Institute of Management), another mini WordCamp in Davao, and a new website, WordCamp.ph, courtesy of dotPH. Expect an organizational meeting within the coming week.
How can you help? Easy peasy:
We are now calling for volunteers for the various committees (logistics, tech, food & refreshments, etc). If you would like to be a speaker at WordCamp, let me know! And if you have suggestions on topics to be presented / discussed at WordCamp, do leave a comment right here.
Are you excited yet? I know I am! New to WordCamp? Check out how last year's went down.
The WordPress developers are inviting everyone to help contribue to the lower-priority open tickets for WP 2.8 in a 24-hour marathon starting April 16 at 8am Pacific time.
To keep things moving, we're announcing a new kind of event, related to bug hunts, but with a different slant. We need a sprint to clear out these tickets. Thursday is the day (and Friday for those over the date line). Core devs will spend 24 hours going through all the tickets tagged with has-patch, and committing those that have been tested and work. So how can you get in on the Super-Awesome WordPress 24-Hour Has-Patch Marathon?

Write a patch. There are dozens of tickets for discrete little pieces of correction (change … to actual ellipses in admin interface, change the 'go back' link to a 'view page' link, etc.), dozens that are browser-specific bugs, dozens that might be more challenging. Pick the one you want to work on, add a comment to the thread so other marathon contributors know someone is working on it, and get the patch submitted before the marathon ends. If you start coding now, your patch could be in by the weekend!

Test a patch. There are, as of right now, 177 tickets marked with has-patch. Patches can't be committed until they've been thoroughly tested. If you're already running the nightly build start testing out these patches in as many operating system/browser combinations as you have. Only have one? Hey, it's probably more than has been tested already! If you're not already running the nightly build, you can download it here to set up a test blog. Don't forget to add what you found to the comment thread for each ticket. If it doesn't work, be specific about what is not working so that others can jump in and fix it.
Check out all the tickets tagged as has-patch here. Great way to help out with the devs without committing too much of one's time.
Marcelle Fabie has written his own version of the previously featured blog credibility tips by Jayvee Fernandez, and his strategies are, shall we say, more aggressive:
You are a VIP. Act like one.
Don't attend if the freebies are not worth your while.
Never shell out!
No matter how compelling, don't blog about the event! You have better things to blog about!
Always invite a MOB with you when attending these blogger events!
Bottom line: you're the customer, you're the one with the purchasing power, so it makes sense for companies, PR people, and the media to be at your beck and call, right? I'm sure the event organizers will agree as well.
(Happy April Fool's Day!)
Once again WordPress is participating in the annual Google Summer of Code and is inviting everyone to help out in improving specific aspects of the blogging software as well as related projects like WPMU and BuddyPress.
You name it, we want you to propose it. It's true, competition is fierce, but hey, if you're already hacking WordPress, you're ahead of the pack as far as we're concerned. Applications are being accepted as of today, and the deadline is on April 3, 2009.
There's also a list of mentors you can approach if you want to participate in the summer-long hacking. It also helps to check out the suggested ideas section of the website.
Sign up here. Visit the Google Summer of Code 2009 site for more details.
iBlog, the Philippines' premier blogging conference, is back on its 5th year this May 9, 2009 at the Malcolm Hall Theater in UP Diliman, Quezon City.
Here's the tentative schedule:
Morning session: (some can be sponsored talk)

Afternoon session:

1:00 – 1:20 Legal issues in Blogging
1:30 – 2:30 Preparing Bloggers for the 2010 Elections
– COMELEC on Blogging & Bloggers
– Citizen Journalism for the 2010 Elections (Oliver Robillo, NAMFREL Chairman – Davao City)
– The Bloggers Election Handbook project release (Janette Toral)
2:40 – 3:30 Blog Advertising Situation in the Philippines (Yehey and 2 sponsors)
3:30 – 3:45 Break
3:45 – 4:45 Blogging to the Next Level (Fitz Villafuerte and another speaker)
4:45 – 5:00 Raffle & Group picture taking

7:00 pm onwards After-Event Party (sponsored)
Registration is open here. You can also check out other information about the event like the venue, sponsors, and promotion.
Get a chance to hone your writing skills under the guidance of communications consultant, freelance lifestyle and business journalist, and political communicator Nina Terol in a 2-day workshop entitled Freelance Writing for Dummies.
FREELANCE WRITING FOR DUMMIES is a two-day workshop that takes the freelance writer-wannabe through the whats, whys, whens, and hows of freelance writing in the Philippines. It will tackle the myths, the realities, and the possibilities that make freelance writing intriguing, challenging, and–ultimately–fun. Whether one seeks to freelance part-time or full-time, this workshop will show that a freelance writing career can be rewarding.
Here's the schedule:
DAY 1: 10 JANUARY (SAT), 9AM-4PM

AM (9AM-12NN)
• Introduction
• DISCUSSION: Why freelance?
• EXERCISE: Your "Life SWOT"
• EXERCISE: Your "Circle of Friends"

PM (1-4PM)
• LECTURE/DISCUSSION: Myths, Realities, and Opportunities of Freelance Writing
>> Including a talk by Carissa Villacorta, author of Surreality
• LECTURE/DISCUSSION: Opportunities in Freelance Writing
• LECTURE: Ready to Write? Here's What You Need
• Day 1 Wrap-Up

DAY 2: 17 JANUARY (SAT), 1-4PM

• Summary of Day 1 and intro to Day 2
• EXERCISE: Practicing "The Pitch"
>> Guest panelist: Candice Lopez-Quimpo, Editor of Baby Center Philippines
• DISCUSSION: Oops! Traps and Caveats
• Open Forum

*WHAT YOU SHOULD BRING:
• Yourself ?
• An inkling of why you want to get into freelance writing
• A pen and extra paper, if you're anal about taking notes
• Extra food (light snacks will be served, but you can opt to bring your own lunch or order from the nearby cafes and restos)
• Whatever homework will be assigned for the day
Only 25 slots are available. Register here.
Red Ribbon is launching a limited edition Coffee Walnut Bavarian cake in time for Christmas and you can be one of the first to taste it. Be at Red Ribbon Libis on December 10, at 7:00 PM.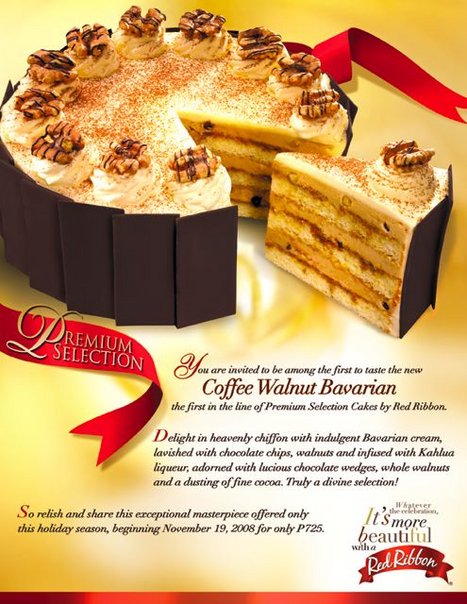 You can bring a maximum of 2 friends along. Sign up here.
Fans of the ABS-CBN telenovela I Love Betty la Fea are invited for a meet and greet event at Eco Moda Manila.
Grab this opportunity to visit Eco Moda Manila! Ma-memeet nyo na si Betty, Armando, Daniela at ang iba pang makulay na characters ng I Love Betty La Fea, IN PERSON! Wag kalimutang ang inyong cameras para makapag-pose ng todo!
Register here for a chance to meet the cast in person.
Congratulations to the winners of the Digital Filipino Web Awards 2008! The awarding ceremony was held last November 5 at Taste Asia, Mall of Asia.
Apparel / Fashion Category – Tesoro's Philippine Handicrafts and Barongs
Art Category – Hiraya
Association / Organization Category – Information Technology Association of the Philippines
Auction / Shopping Portal Category – KabayanCentral
Automotive Category – AutoIndustriya
Beauty Category – Godiva
Blog – Corporate Category – The Belo Medical Group Blog
Blog – Personal Category – The D Spot
Blog – Professional Category – Tech at Hand
Books Category – OMF Literature
Community Category – TipidPC
Computer / Consumer Electronics Category – Villman Computers Philippines
Consumer Banking / Bills Payment Category – Philippine National Bank
Corporate / Professional Category – Syntactics
Events / Conferences Category – WordCamp Philippines
Financial Services Category – Absolute Traders
Food Category – Filipino Recipes
Games Category – RF Online Philippines
Gifts Category – Express Regalo
Guides / Review Category – ClickTheCity.com
Home Furnishings / Improvement Category – Philippine Interior Design & Feng Shui Tips
Jobs / Employment Category – MyNimo
Magazine Category – Candymag.com
Music / Movie/ Film Category – TitikPilipino
Newspaper Category – Inquirer.net
Pharmaceuticals Category – GlaxoSmithKline Philippines
Podcast Category – The Daily PCIJ
Politics Category – Filipino Voices
Real Estate Category – BF Homes Properties
School / University Category – De La Salle University – Manila
Services Category – Load.com.ph
Social Networking Category – GreatPinoy!
Tourism Category – Cebu CeBoom CeBlog
Travel Category – Philippine Airlines
The people behind the excellent WordCamp Philippines have gone back to their homeland and did it again: the 2nd Mindanao Bloggers Summit was bigger and better the second time around.
Through our efforts as a community, more bloggers are now more aware of their unique role as messengers of peace and truth. Young Mindanaoans and (ahem!) more mature ones alike are all in agreement that there is a responsibility to present Mindanao truthfully and aggressively to the whole world via blogging.
Even bloggers who live outside Mindanao flew south to show support for MBS2. You can read more about it on their website.
Here's a special Halloween party for Pinoy bloggers courtesy of Clear and Taste Asia! Enjoy!
What: Clear Black Night, a Halloween Dance Event

When: October 31, 2008, Friday, 7:00 p.m. (to super sawa!)

Where: Taste Asia (beside SM Hypermarket, Mall of Asia)

Attire: Come in Sexy Black (no need to for costumes!)

What to expect: Just be in party mode and get a chance to win instant prizes! Everything's going to be Fun! Fun! Fun!
Register here and view guest list here.
Pantene and SM Hypermarket are hosting a bloggers party at the end of this week:
Date: October 17, 2008, Friday
Time: 7:00 p.m.
Where: Taste Asia, Mall of Asia (beside SM Hypermarket)
A glimpse of what to expect: photo wall, fabfoto, food (!!!), special cocktail drinks, music and a hanep dress-up of Taste Asia methinks, games where you can win instant prizes!
How to join: Just register here
(to check if you got in, go here)
A celebrity guest is said to attend the event. Sign up now!
Thirty bloggers are invited to a wine appreciation workshop with Rene Barbier at TriNoma Mall on October 9, 6 to 8pm. This event is sponsored by SPOT.ph.
SPOT.ph is issuing an open invitation to a wine appreciation workshop with Rene Barbier at the 3rd Level of TriNoma Mall (near Powermac Center). There will be wine (of course) and food sampling.

It's on October 9 (Thursday) at 6-8PM. We're only accepting the first 30 people to confirm. Please email the names of those who want to attend to karl.bustamante@pep.ph. Deadline is by 3PM today.
Team RP in collaboration with FlippyKnows present Bloggers' Night:
DATE: October 10, 2008 Friday
TIME: 8PM onwards
VENUE: My Little Art Place, 222 Wilson St. Greenhills San Juan City
PROGRAM:
8PM: FREE WORKSHOP
11PM: OPEN JAM/OPEN MIC
Featuring Paul Zialcita, Miko Pepito, Nityalila, Jeff Pagaduan, and more!!!
Blogger's night is an on-site socialization for all former bloggers, bloggers, and aspiring bloggers to share tips and trick on how to create and develop a blog and how to use it as a tool to advocate your cause for social change.
Bloggers are encouraged to bring their laptops as there will be free Wi-Fi at the venue.
The 2nd Mindanao Bloggers Summit, which will be held on October 25 to 26 in General Santos City, has opened its registration. Take note that you don't have to come from Mindanao to be eligible for this event.
Who can register?

Any past or present Mindanao resident who has a blog (WordPress, Blogger, Live Journal, I.com, Multiply, Friendster, Imeem, etc. or a self-hosted blog)
Instructions for registering are available at the above blog post. Similar to the process for WordCamp Philippines, you'll have to write a post saying you'll be attending MBS2, which should include a sponsors list. Deadline for registration is on October 18.
All student bloggers are invited to a special event by Bo's Coffee at its Katipunan branch. Click on the image above for the complete details on RSVP.
You are invited to join fellow coffee aficionados for one delightful coffee experience at Bo's.

Sit down with your favorite cup of Bo's blend and listen as the experts talk about the flavorful world of coffee. Embark on a journey that will guide you through the art of brewing the perfect cup of this dark, bittersweet liquid we all come to love.

Delight your senses. Come and stay for unique coffee experience.

Here at Bo's, we don't just make coffee.

We brew it with passion.
September 27, 2008
Bo's Coffee, Katipunan
329 Katipunan Road corner B. Gonzales Street, Loyola Heights, Quezon City
RSVP Maki Pabito @ 0917-8687438
Note: the event will also accommodate 10 non-student bloggers on a first come first (re)served basis.
(Via)
Aileen Apolo writes that San Miguel Corporation is inviting all bloggers to a special party in celebration of Oktoberfest 120, made just for them. Here are the details:
What: Oktoberfest 120 Na!
When: September 26, 2008, Friday, 7:00 p.m.
Where: Taste Asia, Mall of Asia (beside SM Hypermarket)
Why: Parteeh!