Kirby by Ian Stewart started out as an idea for the next default WordPress theme when version 3.0 comes out. It's a white, gray, and black theme with large text, ample white space, and what looks like a modern retelling of the default theme Kubrick we've come to know and love. There are two sidebar areas and four widget areas in the footer.
So I made the Kirby Theme. Actions speak louder than words, right? In the same way, code speaks louder than ideas. What better way to show off your ideas for a new Default Theme than to actually code one up? I get a fun project and you get a new Theme.
It has indeed been adopted by the WP development team as the new default theme and is now called Twenty Ten. It's going through several tweaks until it's fit to be called the predecessor of the great Kubrick. If you don't want to wait until WP 3.0 to come out to use this theme, it's available right now in the Themes Directory.
If you missed the notes Matt's keynote address at this year's WordCamp San Francisco, here's the full video finally posted at WordPress.tv and embedded above.
Look how far WordPress has come in the span of a year. We're still awaiting the final release of WordPress 3.0 for the much-touted WordPress MU/Multi Site merge, but we're also getting a bunch of other exciting, game-changing features such as custom post types, a new default WordPress theme every year, canonical plugins, security checks, and more.
Can't wait to see what will be added to this keynote when WordCamp Philippines 2010 comes around in October.
Aside from his theme Kirby becoming the basis for 2010, the next default WordPress theme, Ian Stewart has announced that he joined Automattic as its new Theme Wrangler. Aside from this, he shared news that a "Theme Team" is being formed and that his own site, ThemeShaper, will be its home.
ThemeShaper will become a public-facing blog for the Theme Team now assembling at Automattic. A place where we can help provide the best possible experience for everyone involved in WordPress theming; from the noobiest of beginners to the most powerful of WordPress wizards.
The state of WordPress theme development has made leaps and bounds in the past few years, so it's great to see an even bolder step taken with Ian and the Theme Team.
Another prominent contributor to the WordPress community got picked up. Viper007Bond, known for his plugins like Viper's Video Quicktags and YOURLS, also announced that he's joining Automattic full-time. He didn't, however, mention any special plans on the plugin development front, but it makes sense for that to come along later on.
WP Beginner digs into the new features coming in the big WordPress 3.0 release. Also recently, Jane Wells posted a report on the latest developments with the current cycle. Third, WP 3.0 is set to enter feature freeze mode on March 1.
What do these all mean? Now is the best time to get familiar with the new features. As we all know, we've got some big ones coming:
The WordPress Foundation has just been launched. It's inspired by the likes of the Mozilla Foundation, and aims to preserve, protect, and educate with the WordPress platform and related projects.
The WordPress Foundation is a charitable organization founded by Matt Mullenweg to further the mission of the WordPress open source project: to democratize publishing through Open Source, GPL software.
Aside from this great milestone for WordPress and its community, it's worth noting that the new site runs on a develoment version of WP 3.0 and the next default theme, 2010. Check it out!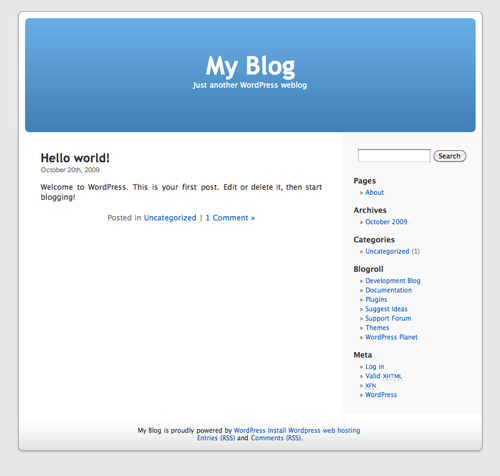 The Huffington Post has written a piece on Kubrick, the default WordPress theme since 2005. Tina Daunt interviewed its creator, Michael Heilemann, and tells how his theme "changed the internet".
Perhaps Kubrick's biggest contribution is that it has brought cyberspace closer to the realization of one of its earliest and most consistent ideals. Web designers and theorists have long talked about the democratization of publishing on the Internet, the fact that the web puts anyone with a computer on an equal footing with the elite that traditionally has owned the printing presses. In many ways, though, it was a meaningless democracy until the people with laptops had the ability to design and to package their work in the same way traditional media has always done.
No better time than now to take a look back at a fascinating part of WordPress history, especially since a new default theme this 2010 is being planned. When that day comes, we'll definitely miss you, dear Kubrick!
The road to the merger has begun. And the first step is a pretty major one: WordPress Multi User (WPMU) has now been renamed to WordPress Multi Site (WPMS). I mentioned in a previous post that the WPMU term "multi-user" in the context of a typical WordPress install could be confusing, so it's great that they got this out of the way immediately. "Multi-site" is much better.
Another major change that's been made: the old WPMU term "Site Admin" has also been renamed to "Super Admin"—again, to erase confusion between WordPress single-user and multi-site jargon.
These and other important topics were discussed in the January 7 WordPress Dev Chat on IRC, and WordPress Tavern has a fantastic report on it. Some tidbits:
There is no ETA on WordPress 3.0 yet
WordPress MU MS 2.9.1 is just around the corner
Work on The Merge has begun
Canonical plugins "need a community of developers like the core to survive"
Priorities for WordPress 3.0 include: The Merge, menus, custom post types, the new default theme, core plugin integration; Media "will not happen" in said version
WordPress.org will be redesigned starting "sometime in late February"
Exciting times for the future of WordPress, and it's all happening this 2010!
There's been talk about changing the Default WordPress theme (called Kubrick, for those who aren't aware) when WordPress 3.0 comes out, around the middle of 2010. It's gotten a lot of people excited, but the details aren't set in stone yet. As with most things in the WordPress development timeline, Jane Wells and the rest of the team are asking the community to sound off on what the next Default WordPress theme should be like.
Should it be a new framework? Should it be an updated Kubrick? Should it have two sidebars or three? Should it come with a boatload of customization options? Should it stay minimal? There are a lot of questions to ask and answer.
Already there are a lot of ideas in the forum thread, but that doesn't mean it's too late to chime in. Eventually there probably will be more structure to the decision making process such as the community polls we had for various WP features, but this free-for-all is a great way to get started, to get all the ideas out there. Jump in, the water's great!